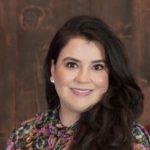 Community Resource Officer
Maria was born in Tamaulipas, Mexico, and moved to Mesquite, Texas, at 11 years old. She has been an active member of her church in Pleasant Grove for nearly twenty two years and is a proud graduate of West Mesquite High School. 
Magdalena has a diverse skillset, including a passion for client care and service honed as the manager and sales executive for almost a decade at Novopelle, a medical spa center. 
In her role, Magdalena taps her vast network of connections she built working in the district office of Texas Can schools and working with a group of entrepreneurs mobilizing Mexican investors to invest in the city of Dallas. In her role with the investment group, she developed strong ties to the Hispanic Chamber of Commerce of Dallas, the Bureau of Economic Business and Affairs in Mexico, and the Consulate of Mexico in Dallas and in New York City. In her role at Texas Can schools, she developed many connections in the education sector but, even more importantly, developed a deep understanding of the challenges her students and their families experienced and how they could have been prevented or alleviated. 
As the Community Health Resource Officer, Magdalena is excited to connect families to services in the Dallas area that already exist but are underutilized and to bring a variety of services by other organizations to our center that meet the needs the community has identified. 
Magdalena comes from a loving family and enjoys baking, cooking, conversations with friends, good books, music, rainy days, great movies, and an amazingly good cup of coffee. Black belted at seven, she is passionate about TaeKwonDo, a discipline that she carries with her in all aspects of her life.