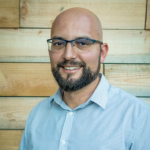 Development & Communications Director
Joseph Rodriguez grew up in the Pleasant Grove area and continues to live and work in the neighborhood. After completing his undergraduate degree in modern languages from the University of Dallas, Joseph spent nine years doing missionary work, which took him both around the United States, including Massachusetts and Michigan, and around the globe, including Ireland, Italy, Brazil and Poland. As a result, he is fluent in Spanish, Italian and Portuguese.
In addition to picking up several languages as a result of his travels, Joseph gained a deeper understanding of the priorities shared by families the world over. Immediately prior to joining Community Does It, Joseph taught for the last six years at a local high school in Pleasant Grove, where he enjoyed learning what weighs on students' hearts and minds. He hopes to leverage their gifts to make a positive impact on their community.
Joseph enjoys traveling and plans to continue to discover the world with his wife and their newborn son.