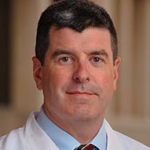 Christopher Madden, M.D., was named Vice President and Chief Operations Officer, UT Southwestern Medical Group in July 2019. He is responsible for the Medical Group's clinical practice and clinical administrative functions at all sites of service, including UT Southwestern Hospitals and Clinics, Parkland Health & Hospital System, Children's Health, the Veterans Affairs North Texas Health Care System, and all UTSW clinically affiliated partners.
Dr. Madden guides the overall direction of the Medical Group, including patient care, the development of strategic and marketing priorities, physician contracting, and financial performance. Dr. Madden works with Clinical Department Chairs to ensure that clinical activities at all sites of service are synergistic with UT Southwestern missions and priorities. In addition, Dr. Madden continues to build relationships with our affiliated partner institutions.
He previously served as interim Director of the Peter O'Donnell Brain Institute, as Chief Medical Officer for Parkland Health & Hospital System, and as Associate Vice President for Parkland Affairs.
Dr. Madden completed his residency at Ohio State University and a fellowship in skull base surgery at Addenbrooke's Hospital in Cambridge, England. He earned his medical degree at the University of Texas Health Science Center in San Antonio.