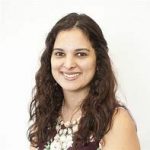 Christine Theresa Román was born and raised in Ponce, Puerto Rico and spent over a decade attending school and teaching in San Antonio.  Before co-founding Community Does It, Ms. Román spent ten years as an educator for the Cristo Rey Network. During her time with this network of college prep, catholic high schools, she served as math teacher and principal at Cristo Rey Brooklyn. She then moved back to her adopted home, Texas, to assist in the creation of the 30th school in the Cristo Rey Network, Cristo Rey Dallas College Prep, located in Pleasant Grove, Dallas, Texas. As Founding Principal and Executive Director at Cristo Rey Dallas, Ms. Román helped to build a vibrant community emphasizing high expectations and strong values. 
Ms. Román earned two degrees from St. Mary's University in San Antonio: a Bachelor of Science degree in Chemistry and a Bachelor of Arts degree in Mathematics.  After graduating from St. Mary's, Ms. Román taught middle and high school mathematics and science for five years at Holy Cross High School in San Antonio, Texas.  Ms. Román was also the mathematics department chair, the robotics team coach, and a de facto college counselor.
She also holds a Master of Public Health degree in Biostatistics from Columbia University in New York.  In her time at Columbia, she managed and analyzed the data for several epidemiological studies of epilepsy and pediatric retinoblastomas. 
Ms. Román is currently working on her doctorate's degree from the University of Pennsylvania, Graduate School of Education. Through her doctoral dissertation, Ms. Román is studying and analyzing the effect leadership development through community organizing interventions for Latino, immigrant parents have in the development and sustainability of parent/school accountability relationships. 
After her time with the Cristo Rey Network, Ms. Román launched her own services as an organizational development consultant, recruiter, leadership coach, and change manager for different small businesses in the construction industry and new non-profits in the Dallas area. 
Through Community Does It, Ms. Román is excited to combine all her experiences as a Latina woman, daughter, sister, wife, mom, educator, life coach, statistician, business consultant, and researcher to bring a community together that continues to be forgotten to help them realize and develop the skills and wisdom they already possess to lead the change they want to see in their communities. 
Ms. Román is the youngest of her family's eighteen siblings.  She is the happy mother of three boys and a girl.  In her free time, she enjoys hiking, cooking, and playing board games.